After three years of weathering pandemic disruptions, safety concerns and tense public scrutiny, we have extensively discussed how burned-out teachers are quitting the profession in droves. This is causing the remaining teachers even more stress and leading to more teachers leaving.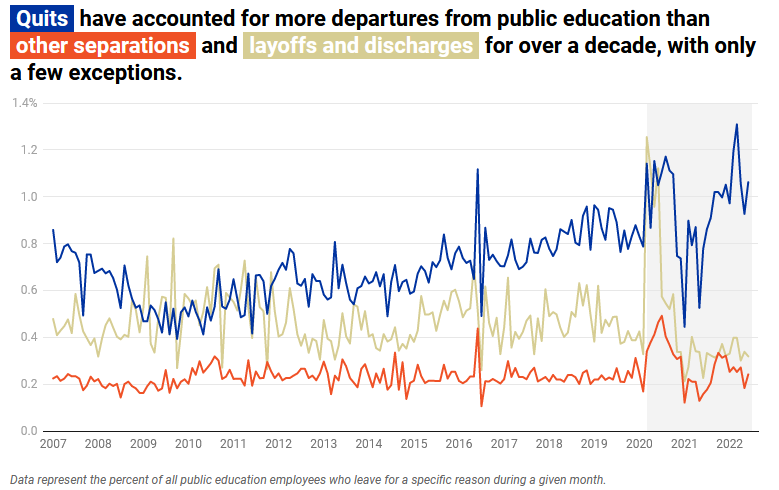 According to The Wall Street Journal, 300,000 public-school teachers and other staff left the field between February 2020 and May 2022, with even more leaving in the past 10 months.
K-12 teachers currently report the highest burnout rate of all U.S. professions, with more than 4 out of every 10 teachers noting that they feel burned out "always" or "very often" at work, according to a June 2022 Gallup poll. If you are interested in the details, teachers are posting on TikTok, giving the reasons they are quitting. According to recent research published in Educational Researcher, teachers are experiencing burnout and anxiety at record numbers and are leaving the profession. But where are these teachers going?
One of the most common destinations for teachers leaving the profession is other fields within education. Some move into school administration, become educational consultants, choose to work for textbook publishers or in edtech, leveraging their experience and skills gained from teaching. Here is a list of education focused companies interested in hiring former teachers.
Jennie Magiera, Google's global head of education impact, was a 4th grade teacher in Illinois when she decided she wanted to branch out. She began writing her own education blog and also posting tutorials to her YouTube account, which evolved into her being invited to help write national ed-tech policy. She encouraged teachers to move to their next challenge during an ISTE session on hiring in edtech.
Plenty of teachers are also going to work for the non-education businesses in the private sector. Many companies value the skills and experience that teachers bring to the table, such as communication, organization, and critical thinking. Teachers can find themselves in corporate training roles, human resources, or marketing. Acacia Fante, 28, was recently reported to earn $110,000 as a senior product marketing manager in Tulsa, Oklahoma because in 2020, she left a teaching job that paid less than half her present salary.
They are also headed into the non-profit sector. If a non-profit that focuses on education or youth development, teachers are a natural fit. Teachers may work in program management, curriculum development, or other roles within nonprofits that align with their skills and interests. Lorena Bader began a non-profit animal welfare organization called Four Paws and Friends after she retired from teaching high school.
Other teachers have become entrepreneurs. They start their tutoring business, develop educational products, and create platforms to connect teachers with resources and support. For those that have just left the classroom, there is a deep understanding of the needs of students and the education system, which can be a valuable asset in knowing where to put effort. Anna DiGilio spent 23 years working as a second-grade classroom teacher before she decided to take a chance on her creative skills. She managed to build a million-dollar business, Simply Skilled Teaching, that claims to help young students learn.
If educators who are leaving the profession spend time researching their fields of interest as well as their transferable skills and experience, they can succeed in a variety of fields outside of education. There is an excellent article on the Muse called 14 Jobs for Teachers Who Are Over It that details possible jobs, average salaries, and links to job postings.
Teachers leaving the profession have a wide range of destinations, from other fields within education to entrepreneurship or the private sector. There is a persistent discussion about how "ethical" it is to help teachers leave (especially public) education. It must be said that the people against it are mostly people staying with the schools. When teachers leave like this, the schools and the students suffer. But staying and being a martyr is not a solution that helps you or the system long term. Until there is enough pain that people with decision making power realize they need to pay teachers better and improve their job conditions, it will continue to be a profession that people flee.
The House of Representatives passed a bill on Wednesday to block President Biden's student loan forgiveness program and end the...