I feel it in the water. I feel it in the earth. I smell it in the air. The world of EdTech is shifting and becoming less stable. Everyone is far more likely to get acquired, and the old categories don't mean as much.
Tech has generally favored consolidation into the world of the "Big Tech" of the 5ish companies which dominate most of the tech industry. While most of those companies have some footprint in education, they mostly haven't been seen as the major players in EdTech. That has instead been Coursera, edX, Udemy, or Udacity. But when 2U acquired Coursera last year, and with the meteoric rise of (or us finally paying attention to) BYJU'S the landscape of what EdTech platforms are creating is shifting.
Coursera, edX, Udemy, and Udacity are all primarily MOOC providers, and while the concept of a MOOC still holds a lot of promise for its ease of scalability, the market has pretty much decided that it is not sufficiently interested in MOOCs to make them financially viable. 2U is one of the largest OPMs, an industry which is seeing increased government pressure to reform, and a company that is built more on partnerships with universities than on a massive library of courses. But with the acquisition of edX, 2U is already blending the OPM and MOOC sides of the EdTech world together.
Now BYJU'S is thinking about buying 2U in an attempt to expand its offerings more into the US, but as Phil on EdTech eloquently pointed out, BYJU'S didn't have much of a position in Higher Ed, so this acquisition wouldn't just be about expanding to the US, it would be about widening the scope of the company.
BYJU'S is an Indian company whose primary US customers are parents buying specific courses or 1 on 1 tutoring for their Pre-K – 12 kids. But starting in 2021, after seeing some great pandemic growth, BYJU'S has begun to expand into Higher Ed and OPMs, becoming what that article calls "Big EdTech". Now this is far from the end stage of "Big EdTech" and we are very likely to see the industry shift to add in some other large players, but could mean that anyone who does not grow will be acquired or squeezed out. Although no cohesive strategy exists for Google or Apple to follow yet, a complete platform offering, providing free MOOC options alongside paid credential programs, and 1 on 1 tutoring, seems to be the road that BYJU's is taking.
In some ways this is similar to the channel stores and streaming bundles which are dotting the video streaming industry, an effort to give a consumer every streaming service they might want.
Tutoring seems to be an especially interesting area right now. It is difficult to scale and can pretty effectively provide a large moat against competition, so those companies that have it are likely to maintain some points of differentiation for some time. The expectation for high dosage tutoring (usually 1 on 1 over video or in person) is becoming higher and higher. ESSER III dollars have specifically allocated 20% to be used on student learning loss, and EdTech tutoring companies qualify in that category. Paper is a tutoring company which has seen a lot of growth, but also currently does not offer any high dosage tutoring, only chat based. There is also Varsity Tutors, Princeton Review (Tutor.com), Revolution Prep, and a few others, all of which might be getting more attractive for acquisition by any company who hopes to create this kind of multi purpose EdTech ecosystem that 2U and BYJU's are speeding towards.
Interestingly, this is leaving one of the old giants, Coursera, almost completely out of the picture. MOOCs are even more out of fashion now than they were pre-pandemic, and while edX still seems to have a lot of their shine from their connections to MIT and Harvard, Coursera's Stanford bona fides have seemingly been washed away. They still might be able to bring a lot of value in the form of the partnerships they currently have with the many faculty at different universities who made Coursera MOOCs and are paid part of the revenue those courses generate, but that is far less than the value it would have commanded several years ago. In fact, we have seen Coursera's stock fall by more than ⅔ since it began trading publicly in April 2021.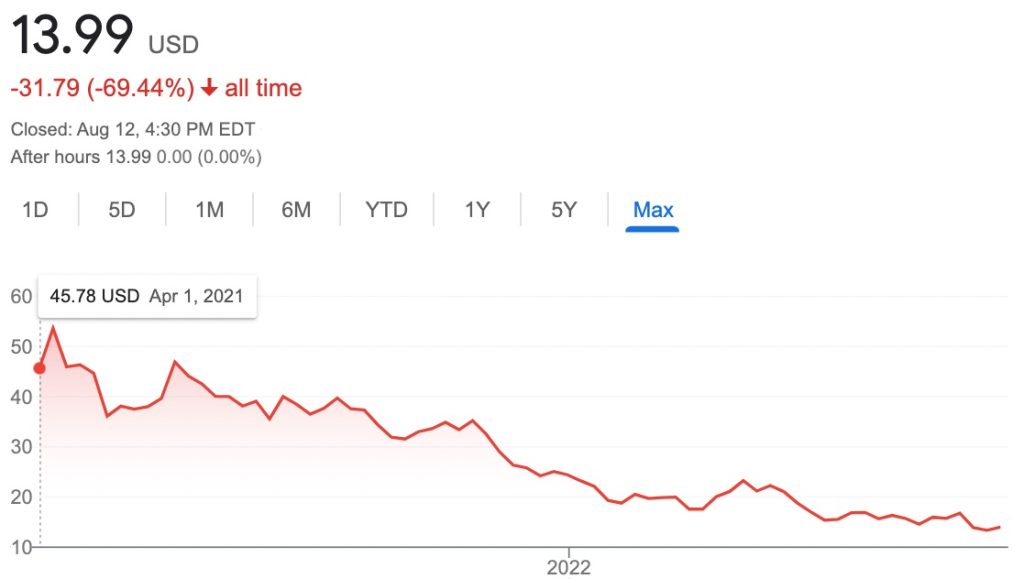 SIGGRAPH , the premier conference on computer graphics education, held its 50th event last week in Los Angeles. Back in...