The "Great Resignation" has been steadily sweeping over any number of industries. Workers being asked to come back into the office regularly find that they simply aren't the same people who were sent to work from home two and a half years ago. Dealing with commutes, uncomfortable hierarchical social atmospheres, and paying for expensive child care often feel frustrating from this side of the pandemic, and with the average worker more willing to leave their jobs, businesses are having to raise salaries to keep positions filled. Possibly because of higher ed's longer hiring timelines, or just general slowness to feel trends in industry, the long tail of the great resignation is still being felt.
It was a frequently discussed topic at the National Association of College and University Business Officers conference last week. The same frustrations are felt in higher ed as industry, driving to work to be on Zoom, the employees who are able to work from home vs. those who aren't, and anxiety over what having employees in multiple states would mean for an employer. But universities are having to try to meet some of the demands of workers because currently, it is the employees' job market.
Amidst this backdrop, CUPA-HR, a society for HR workers in Higher Ed, conducted a survey on employee retention. In that survey, almost 60% rated themselves as at least "Somewhat Likely" to seek other employment in the next 12 months. Unfortunately, I can't find a survey like this conducted before the pandemic which I can compare against, so knowing exactly how much of an increase that is, is difficult.
A lot of the employees were looking to institution hop or transition into industry, which makes a lot of sense given that so many people were specifically looking for a pay increase or to work remotely. 60% of those surveyed say that they work "completely or mostly on site", so wanting some flexibility to work from home is not surprising. Again, it is difficult to compare to the population at large, but the graph below (found here) makes it seem like this is similar to or slightly better than the national average.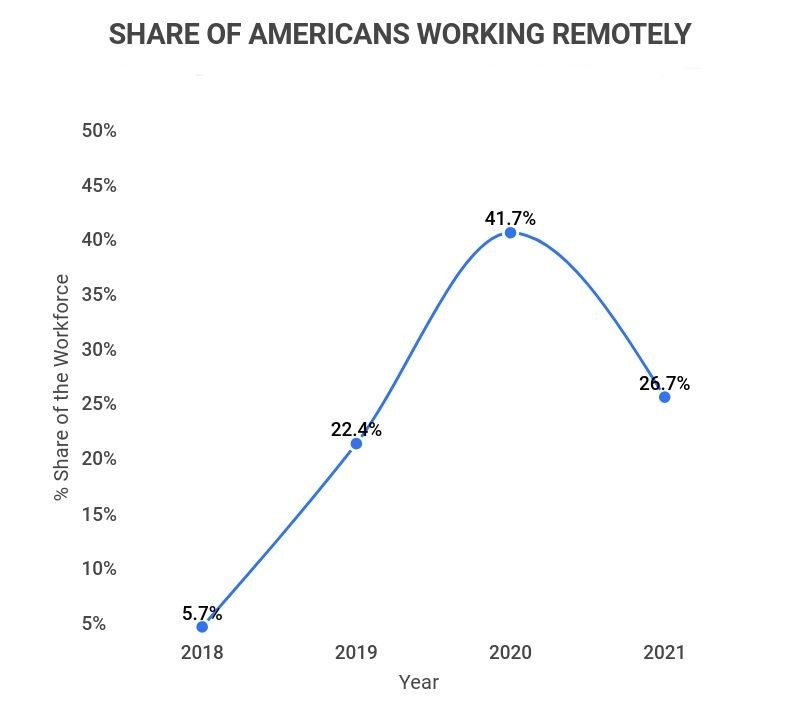 And the issue around pay is not surprising either. For a long time working in Higher Ed has been a balance, often giving up some compensation dollars for a work environment which is more mission driven and often less bottom line focused, but with rising inflation, a lower salary is getting less and less acceptable.
How will Higher Ed cope? Hire less qualified staff and let more work fall on the staff that stays? That looks like a very similar trend to what is happening to K-12 teachers. Increase pay and increase student tuition to compensate? It's hard to know. Maybe the "Great Resignation" will settle down and things will return to how they were, or maybe we're looking at a "new normal".
SIGGRAPH , the premier conference on computer graphics education, held its 50th event last week in Los Angeles. Back in...